Angel Bear Yoga (ABY) Program
Pre-School & Day Care Program
Storytelling, movement, nature, and crafts.
Age : 3 – 9 years
Duration : 12 Weeks
Session : 60 minutes (Twice a Week)
arrow
Overview : A fully comprehensive program with symbolic yoga poses representing 50 Character Traits that allows children to step into an enchanted world where Angel Bear leads them through adventures in the forest. Lessons are divided into two parts – character and nature – utilizing yoga poses, breathing exercises, heart affirmations, visualizations, a creative storyline, quiet time, and relaxation.
This yoga program is the first of its kind to promote character building through yoga allowing children time to stretch, relax and learn positive values and character traits.
ABY is considered Green-Themed Yoga for Kids – Helping children to become compassionate and knowledgeable about their world – as they remember to love themselves and their animal friends.
Each Angel Bear Yoga session includes poses, visualizations, breathing exercises, heart affirmations, angel moments, coloring pages and take-home activities.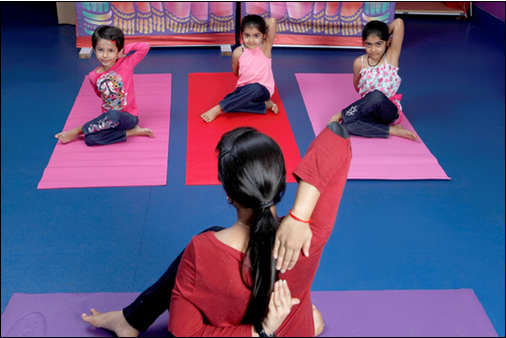 Goals:
Engage kinesthetic learners.
Incorporate movement into the day.
Teach character education. Nature appreciation and science facts.
Encourage creativity and imagination with fun Angel Bear activities.
Promote a positive self-image and instill a feeling of confidence and self-worth in each child.
Provide an outlet for creativity and self-expression.
Develop in each student self-discipline, self-control, a sense of responsibility, and an understanding of self and individuality.
Prepare the student to function successfully and manage their personal energies in the modern world.
Demonstrate yoga poses and breathing techniques.
Portray characters through familiar movements and dialogue.
Integrate movement, breath, story-telling, visualizations and crafting.
The child develops concepts about self, relationship to one's body, to their close surroundings and the natural environment, using elements of creative movement, crafting, story-telling and self-expression.