Good job Bela & Company. Keep up the Great Service! I strongly recommend this School & Day Care.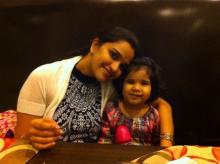 Manali and Viraaj Teckchandani
Being working parents we realised that the Day Care Facility at Cosmikids International was the best choice to opt. It was like a second home for my child, where she was getting all the possible care which we would have given at home. Saesha has never given any indication that she is not happy with even a single person, whether it is the teaching or non-teaching staff. I must say the behaviour of every staff with children is excellent. They understand the psychology of children, are well trained. I strongly recommend this School & Day Care.
I remember Saesha was very shy and hardly used to mingle with other children, but, once she started going to school she became more friendly, talkative and more knowledgeable. Good job Bela & Company. Keep up the Great Service!
Our daughter likes going to Cosmikids Day Care & Play School!!! She particularly enjoys the field trips a lot!! We really appreciate you guys for organising this and also for taking exceptional care of Saesha. Our daughter has learnt quite a lot of stuff. You guys are doing a great job! Thanks a lot & keep it up! We are very thankful to you all for the patience and co-operation in her over-all development.
Cosmikids Day Care is the best peace of mind a parent can have. After searching for quality day care providers and coming across a few questionable homed based day cares, it was a breath of fresh air to find Cosmikids Internationa! I can go to work with full confidence that my daughter is in caring, safe, educational and very fun environment. That peace of mind is priceless! We appreciate Bela and her family very much!
A very special mention goes to Monica teacher – whom my daughter mentions at least 3-4 times every day when back home….Monica, we truly appreciate all the care and love showered on our Angel….
We couldn't have asked for a better "Second Family" to guide, teach and love our little princess.
With all our love and eternal gratitude…………. Manali and Viraaj Teckchandani